Krzysztof LABISZ<![if !supportFootnotes]>[1]<![endif]>
REFLECTIVITY OF ANODISED AL-SI ALLOY SURFACE OF BELT PULLEYS USED IN COMBUSTION ENGINES
Summary. The recent trend of using aluminium alloys instead of steel has reached the transportation industry, where increasingly, more parts are made of aluminium. An example is the belt pulley, applied for combustion engines for energy transmission. This part should be strong, durable, and lightweight. Aluminium-silicon alloys are a good choice, moreover, even when the surface is anodised, also because of their moderate inertia control and excellent wear characteristic during mechanical operations. Since aluminium is lightweight yet mechanically durable and anodised, it is an ideal belt pulley to use, especially in high-temperature operations. However, the main question is what type of Al-Si alloy, casting method and anodisation method should be used in terms of energy adsorption, having long-term properties for a lifetime, has to be applied. For this reason, this paper presents the influence of the chemical composition, casting method and anodising parameters on the structure and thickness of the anodic layer produced on aluminium alloys, as well as on the albedo value as an ability to reflect or absorb light. The aluminium alloys, AlSi12Cu1 and AlSi9Cu3, were used as research materials, obtained using different casting methods. The goal of this work was to determine the optimal combination of the anodisation conditions and materials for maximising the reflectivity factor of the surface, as a very important factor, determining the energy amount absorbed by an anodised surface. For further improvement of these surface properties as well as for enhancement of the properties and strengthen the material produced with different aluminium alloys production methods, different alloying additives were added. In addition, the mechanical properties of the surface layer were measured, where a remarkable hardness increase was obtained, and the best combination in form of AlSi12Cu1 high pressure cast was found with the highest albedo factor among all tested surface variants.
Keywords: aluminium, reflectivity, adonisation, surface treatment, sand cast, high pressure cast, albedo
1. INTRODUCTION
2. INVESTIGATION PROCEDURE
| | | | |
| --- | --- | --- | --- |
| Surface | Direct(lux) | Reflected(lux) | Albedo |
| Street Asphalt (greyish) | 257,000 | 16,100 | 0.06 |
| Grass lawn in shade | 16,600 | 431 | 0.03 |
| White laser printing paper | 11,350 | 7,000 | 0.62 |
3. INVESTIGATION RESULTS
As a result of an abrasive wear test, anodisation was found to reduce abrasive wear. The best wear resistance is achieved when the anode layer thickness is high (approx. 48 µm). Partial removal of the coating was observed for all castings made in the high pressure die casting method, where the coating thickness is lower (approx. 10 µm).
The results in Figure 3 show that anodised samples of sand cast AlSi9Cu3 alloy have half the mass loss than non-anodised ones. In the remaining cases, there is a reduction in mass loss from 30 to 47%.
Fig. 3. Comparison of abrasion of pressure castings
Fig. 8. Comparison of anodic layer thickness
<![if !vml]>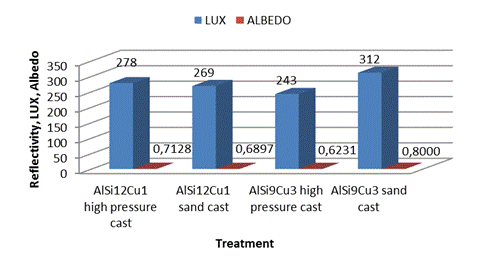 <![endif]>
Fig. 9. Reflectivity and albedo of the produced anodic layers
<![if !supportLists]>1. <![endif]>Nickel Daniela, Dagmar Dietrich, Roy Morgenstern, Ingolf Scharf, Harry Podlesak, Thomas Lampke1. 2016. "Anodisation of Aluminium Alloys by Micro-Capillary Technique as a Tool for Reliable, Cost-Efficient, and Quick Process Parameter Determination". Advances in Materials Science and Engineering Article ID 1374897:
1-12. DOI: http://dx.doi.org/10.1155/2016/1374897.
<![if !supportLists]>2. <![endif]>University of Calgary. "Energy education". Available at: https://energyeducation.ca/encyclopedia/Albedo.
<![if !supportLists]>3. <![endif]>HyperPhysics. "Albedo of the Earth". Available at: http://hyperphysics.phy-astr.gsu.edu/hbase/phyopt/albedo.html.
<![if !supportLists]>5. <![endif]>Curioni Michele, Tito Gionfini, Antonello Vicenzo, P. Skeldon, G. E. Thompson. 2013. "Optimization of anodizing cycles for enhanced performance". Surface and Interface Analysis 45(10): 1485-1489.
Received 05.04.2021; accepted in revised form 29.06.2021
<![if !vml]>

<![endif]>
Scientific Journal of Silesian University of Technology. Series Transport is licensed under a Creative Commons Attribution 4.0 International License