Jan VERNER<![if !supportFootnotes]>[1]<![endif]>, Marie SEJKOROVÁ<![if !supportFootnotes]>[2]<![endif]>, Petr VESELÍK<![if !supportFootnotes]>[3]<![endif]>
VOLATILE ORGANIC COMPOUNDS IN MOTOR VEHICLE INTERIORS UNDER VARIOUS CONDITIONS AND THEIR EFFECT ON HUMAN HEALTH
Summary. The aim of this paper is to estimate the mass concentrations of volatile organic compounds (VOCs) such as benzene (B), toluene (T), ethylbenzene (E) and m-, p-, o-xylenes (X) inside of the driver-compartment of motor vehicles. The results were compared with the Czech limits for indoor environments and the external concentrations. The experiments were carried out on various routes with different methods of ventilation. The volatile emissions detected inside the vehicle were investigated in the city of Brno, Czech Republic. Cabin air was collected using desorption tubes and the samples were analysed by thermal desorption gas chromatography with a flame ionisation detector coupled with a mass detector. VOC concentrations detected in the cabin of the vehicle ranged from 2.93 µg.m-3 to 7.96 µg.m-3 for benzene, 1.42 µg.m-3 to 4.38 µg.m-3. for toluene, 44.06 µg.m-3 to 152.00 µg.m-3 for ethylbenzene and 63.07 µg.m-3 to 479.62 µg.m-3 for xylenes. The indoor limit value for benzene, according to the Czech standard, is 7 µg.m-3. Levels of toluene were consistently below the Czech hourly standard, whose value according to the Czech standard is 300 µg.m-3. According to our findings, various methods of ventilation are an important factor influencing the BTEX pollution levels within the interior of the vehicle. In addition, this paper presents the influence results of benzene on the health of passengers inside the cabin of the vehicle. The results show that all age categories, especially children under the age of two, are exposed to increased health risks.
Keywords: benzene, BTEX, descriptive statistics, health risk assessment, vehicle, volatile organic compounds (VOCs)
<![if !supportLists]>1. <![endif]>INTRODUCTION
Emissions from transport vehicles is an important factor affecting the environment [1-4]. Volatile Organic Compounds (VOCs) present in the air in urban areas cause considerable concerns. Large urban areas suffer under the onslaught of increased traffic, which is a major source of VOCs. Mobile and fixed sources emit large amounts of VOCs. Vehicles can contribute up to 35% of ground-level concentrations of VOCs [5]. VOCs are correlated with traffic density during morning and evening commute peaks [6]. Benzene, toluene, ethylbenzene and xylenes (BTEX) are the major and most studied components in motor vehicles.
According to Cao [7], most VOCs are known or suspected carcinogens. Benzene is a well-known carcinogen, while ethylbenzene and styrene are classified as potential carcinogens in humans and toluene is not classified as carcinogenic in humans by the International Agency for Research on Cancer. For example, leukaemia is associated with exposure to benzene. Benzene is one component of gasoline. Higher content of benzene in fuel affects ambient VOC level [6]. Due to its harmful health effect, reduction of benzene in gasoline is an endeavour to reduce benzene levels throughout the world. The emission factor of individual BTEX varied under identical driving modes. The average emission factor of total VOCs at low speed (30 km.h-1) was the largest among those tested [8]. The concentration of VOCs within the compartment of the vehicle depends on several factors.
Another source that affects interior vehicle VOC levels includes tobacco smoke, spills of chemicals within the vehicle or climate and altitude changes. New cars have relatively higher interior VOCs levels than older vehicles [9], depending on the materials used in their interiors. VOCs are linked with interior sources such as upholstery or plastic mouldings, carpets, seating surfaces, foam cushions, paint and sealants [10, 11]. Hydrocarbons are more present in the summer. In winter, the concentrations are similar to external concentrations [12].
Certain environmental factors influence VOC values such as temperature, humidity or airflow velocity [8]. The use of air conditioning was investigated and may reduce BTEX within the cabins of cars. Reducing interior temperature decreased VOCs pollution levels [9]. However, as stated by Chen et al. [10], concentrations of BTEX were found to be higher in air-conditioned buses than non-air conditioned buses, because reduced natural ventilation prompts an increase in air conditioner pollution. According to Dirks et al. [11], windows left open are the best solution for maintaining low in-cabin air pollution levels, although recirculation should be used in anticipation of congested conditions.
Movement of transport in cities is due to the slow movement of vehicles during morning and evening rush hours [13]. Some studies [14, 15] found that in-vehicle concentrations of VOC during increased traffic periods were up to eight times higher than appropriate ambient levels. During the summer, vents or windows remain open or closed depending upon the use of air conditioning.
This paper evaluates two typical ventilation methods in vehicles that affect interior concentrations of BTEX. The article describes the design of actual measurements at selected locations and on a selected sample of passengers commuting to the city of Brno. The aim of this study was to assess the exposure of passengers to BTEX substances on their journeys by car along commuter routes in the metropolitan area of Brno.
Brno is situated at an altitude of 497 m in the Czech Republic. The population of Brno approximates 377,000 and population density is approximately 1,759 km-2. During the measurements on each track, meteorological parameters and traffic density were also studied. Since benzene is a carcinogenic substance, the effect of benzene on human health was studied in this work. The scope of the case study and the use of the methods are described in the next part of this article. Initially, the focus centres on the specification of the methods used and their results, which was later presented and discussed.
2. MATERIALS AND METHODS
In the first step of the study, measurements were made of BTEX. Measurement was carried out in three localities with different intensity load transport. Two urban routes and a rural route were chosen for this study. Along these routes, no significant source of VOCs exists that would affect the measurement. This also confirms studies [13] carried out on similar localities in Brno.
When the routes were selected, traffic loads were determined at selected locations. Data on traffic density are sourced from the national traffic census by the Road and Motorway Directorate of the Czech Republic. Routes location, traffic intensity, sampling time and the sampling scheme are summarised in Tables 1 and 2. As mentioned in the introduction, the effect of ventilation in vehicles plays an important role, therefore, measurements were carried out in two modes, with open and closed ventilation.
Tab. 1
Density of transport (vehicles per 24 hours) on study routes
| | |
| --- | --- |
| Location | Density of transport (vehicles per 24 hours) |
| Brno- town centre | 36,000 |
| Arboretum Lesná | 25,000- 40,001 |
| Lipůvka-Blansko | 7,001-10,000 |
Tab. 2
Summary of the sampling scheme
Drive mode

Routes

Time sampling

[s]

Volume of air sampled

[l]

Temperature in cabin

[°C]

Ventilation open

Lipůvka-Blansko

900

3.002

22

Ventilation closed

Blansko-Lipůvka

900

3.004

22

Ventilation open

Arboretum-Lesná

900

3.002

22

Ventilation closed

Lesná-Arboretum

900

3.004

22

Ventilation open

Brno-town centre

900

3.004

22

Ventilation closed

Brno-town centre

900

3.002

22
2.1. Location Brno – town centre
Brno-centre of city (route A – 3.90 km long) is a typical urban location representative. According to data from the Transport Research Center (TRC), it is in an area with a density of traffic at 36,000 vehicles per 24 hours-1. The main source of VOCs is transportation consisting mainly of private motor vehicles. Fig. 1 illustrates the route of measurement. Measurements were carried out in the streets of Pionýrská, Kotlářská, Úvoz, Hlinky, Veletržní and at the Mendelovo náměstí. Sampling was carried out under two driving modes, during both on and off ventilation.
<![if !vml]>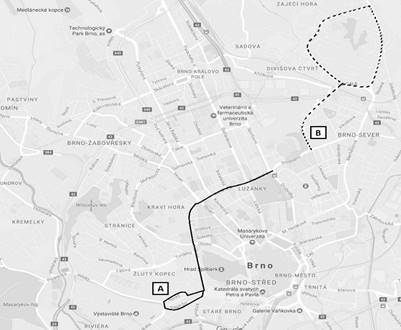 <![endif]>
Fig. 1. Location of the sampled routes A, B
2.2. Location Arboretum - Lesná
Arboretum - Lesná (route B – 5.10 km long) was chosen with regard to a busy nearby road with a density of traffic at 25,001 to 40,000 vehicles 24 hours-1. There is a high proportion of greenery, located in the Botanical Gardens and Arboretum of Mendel University. The main source of VOCs is freight transport. Brno - Lesná is a typical residential neighbourhood, so other sources of VOCs are from the use of garden techniques. Sampling was carried out in two driving modes, during on and off ventilation. Paths of measurement are shown in Fig. 1.
2.3. Location Lipůvka-Blansko
Lipůvka - Blansko (route C – 13.15 km long) is the third location selected for the measurement of VOCs. It is a route between the two municipalities, along which travels 7,001 to10,000 vehicles 24 hours-1. It is the main route for commuters into Brno. This location was chosen owing to its lower density of traffic. Sampling was carried out in two driving modes, during on and off ventilation. Path of measurement is shown in Fig. 2.
<![if !vml]>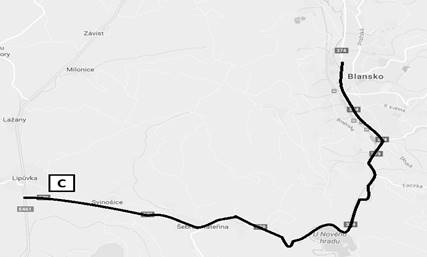 <![endif]>
Fig. 2. Location of the sampled route C
2.4. Air sampling and analysis
At these locations, air samples inside the vehicle were taken during the two ventilation modes-open and closed ventilation. The sampling was performed from 4th April to 9th May in 2018. Measurements were carried out each day on all of the routes and samples were collected twice, once during peak (7:00-9:00) and again at (15:00-17:00) hours.
Samples were collected in the passenger area of the vehicle approximately 1.3 m above the floor level. Ambient pressure was between 1,008.2-1,009 hPa. The air sample was collected by pump Aircheck2000 (SKC manufacturer), which was attached to a sorption tube, Markes TD Stainless steel tubes packed with Carbograph 2TD (40/60 mesh) to analyse aromatic and volatile substances. The amount of sorbent was 400 mg per analytical cycle. Sample flow rate of air was controlled at 200 ml.min-1. The sampling period was 900 s. The volume of removed sample was about 3 litres. Following this, the sorption sample tube was removed and replaced. Samples of ambient air with volatile compounds were removed from sorption tubes and subsequently desorbed according to the method 5991-1500EN. Agilent see the description below. The summary of the sampling scheme is shown in Table 2.
For desorption of BTEX from sorption tubes was used the methodology 5991-1500EN Agilent. Thermal desorber Agilent 7667 was used with the following temperature program for thermal desorption of samples. Subsequently, desorbed samples were analysed by gas chromatography-tandem mass spectrometry.
Evaluation of the samples was carried out on a gas chromatograph Agilent 7890B with two series-connected columns HP-5ms Ultra Inert (each with a length of 15 m, internal diameter 250 µm and a thickness of 0.25 µm grounded phase). Calibration of the instrument was carried out of BTEX Mixtures with the nitrogen Certificate Supplied by SIAD composition. Linearity was guaranteed for benzene concentration in 8 μg.m-3 of air.
The mass spectrometer Agilent 7000 was used for the detection of these substances: m,p-xylene, o-xylene, toluene, ethylbenzene, benzene.
2.5. Health risk assessment
The following part of this paper describes results from the risk analysis. For the purpose of this study, a case study based on the following parameters was created from real-time data. The assessment of health risks conducted in this paper is based on the method designed by the United States Environmental Protection Agency (US EPA) [16] and the method materials used in the Czech Republic such as Manual for Prevention in Medical Practice, part VIII - basic assessment of health risks [17]. This method is based on the calculation of the average daily inhalation dose, lifelong average dose and the characteristics of the carcinogenic risk. The analysis was based on the following formulas. Main formulas for determined annual population cancer risk in the population exposed is equation 1:
<![if !vml]>

<![endif]> (1)
where: APCR is annual population cancer risk in the population exposed, ELCR is individual lifetime cancer risk relating to given exposure (above population background), AP is number of exposed persons, 70 is the considered number indicating the average life expectancy in the Czech Republic.
Based on the US EPA [16] method, exposure in this paper assessed to be chronic and equation 2 was used. US EPA [17] also recommends an adjusted calculation where IUR (value for benzene is 6x10-6 [µg.m-3]) is multiplied by ten for the age up to 2 years old, or by three for the age of 2-16, as seen in equation 3:
<![if !vml]>

<![endif]> (2)
<![if !vml]>

<![endif]> (3)
where: EC is exposure concentration [µg.m-3], CA is benzene concentration in air [µg.m3], ET is exposure time [hours/day], EF is exposure frequency [days/year], ED is exposure duration [years], AT is averaging time - lifetime (24 hours/day x 365 days/year x 70 years) [hours].
For the calculation of the exposure time and frequency, equation 4 was recommended by Huzlík [11]. Based on the assignment of the following data to formula 4, the exposure time and frequency was obtained. The size of the population potentially exposed to carcinogenic effects was found to be 6,643,183 people. This amount matches the amount of all those holding driving licenses in the Czech Republic. For the purposes of calculation of the period of exposure, the results of the national traffic count conducted in 2010 in the Czech Republic by the Road and Motorway Directorate. For the purposes of calculation of exposure lengths, the roads were divided into highways with an average speed of 100 km.h-1 and other roads with an average speed of 60 km.h-1.
<![if !vml]>

<![endif]> (4)
where: <![if !vml]>

<![endif]>is the length of the i-th summing section of the freeways from the total number of N counting sections of freeways [km], <![if !vml]>

<![endif]>traffic intensity on the i-th summing section of the freeways from the total number of the N counting sections of the freeways
[vehicles.day-1], <![if !vml]>

<![endif]> is the average velocity of traffic flow on freeway [km.h-1],